Club Championship 10 Mile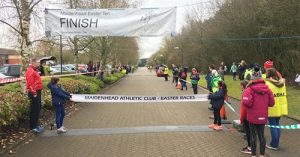 Our last race of the 2020/21 Club Championship season is our 10 Miler which was due to take place at the Maidenhead Easter 10.
Sadly they have had to cancel the race this year.
However, they are doing a virtual run over the Easter weekend and we would like to open this up to all our members to enter and take part in our 10 Mile Club Championships!
All you have to do to take part is sign up using
this link
, pay an admin fee of £5 to enter the race and run a 10 mile route outdoors over the Easter weekend from Thursday 1st April – Tuesday 6th April. But hurry! There are only 150 places left!
Please remember to submit your result to the race organisers and directly to our Race Secretary
at
gwellard@hotmail.co.uk
by Monday 12th April. You will also receive a Maidenhead Easter 10 medal for taking part!
Please make sure that you follow government guidance on national lockdown and any local restrictions in place at the time of your activity. Keep it local, keep it safe and don't take any unnecessary risks. Your activity is run at your own risk.
If you deferred your entry from the 2020 event and have subsequently donated your entry fee then you do not need to enter the virtual race as you are already entered, just remember to submit your result as above!
For next season, ie the 2021/22 season, the new 
Truepenny Trophy
will awarded each year to the fastest male and female club runner for the Club 10 miler.