The Mealing Trophy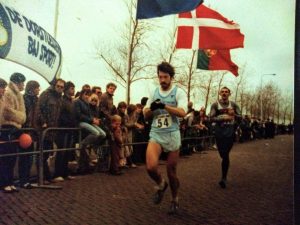 Glen Mealing was one of the founder members of the club, originally as a member of Walton AC, and as an experienced runner, he was asked by Egham Sports Centre to help a newly formed group of joggers "find their feet", and enthusiastically agreed.
See more details on the club history page.
Glen has held many posts in the club, including the initial Chairman until the committee was firmly established. He was involved in promoting and organising local races such as the Englefield Green half marathon and the annual cross country team relays as well as the open handicap events.
His most memorable running achievements were running a 2:36:15 marathon in Holland in 1978, followed by two 56:36 10 mile races the year after. Although he has great satisfaction in being instrumental in setting the foundations for the club.