The Burrows Trophy is awarded to for the runner which shows the greatest improvement in their time over the previous month in the Summer Handicap, and the annual prize for the largest improvement over the summer season.
Colin and Julia Burrows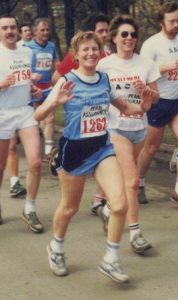 Colin and Julia Burrows joined Runnymede Runners in the mid 80s. Having started out as keen walkers together, Julia became a devoted runner for the club and ran multiple marathons across the globe including London, Rotterdam, Paris and New York.
Julia sadly passed away in 2012 but her spirit and devotion to marathon running lives on in the club. Colin still actively volunteers at our club events including the handicap series and the annual club relays, instantly recognisable in his cowboy hat.